এয়ারটেল বাংলাদেশের একটি জনপ্রিয় সিম অপারেটর। দেখে নিন সকল আপডেটেড এয়ারটেল মিনিট অফার কোড।
এয়ারটেল বান্ডেল অফার কোড
25 Minute+80SMS
মূল্য: 24 BDT
মেয়াদ: 2 Days
80 Minute+80 SMS
মূল্য: 46 BDT
মেয়াদ: 7 Days
125 Minute+200 MB
মূল্য: 78 BDT
মেয়াদ: 7 Days
160 Minute+400 MB
মূল্য: 93 BDT
মেয়াদ: 7 Days
335 Minute+200 SMS
মূল্য: 193 BDT
মেয়াদ: 30 Days
480 Minute+1 GB
মূল্য: 278 BDT
মেয়াদ: 30 Days
250 Minute+1GB(social)+250sms
মূল্য:149 BDT
মেয়াদ: 7 Days
উপর্যুক্ত প্যাকগুলো কিনতে হলে প্যাকেজ মূল্যের সমপরিমাণ টাকা রিচার্জ করতে হবে।
24 Minutes
মূল্য: 14 BDT
কোড: *121*014#
মেয়াদ: 16 Hours
50 Minutes+1.5GB & 50 SMS
মূল্য: 98 BDT
কোড: *123*098#
মেয়াদ: 7 days
30 Minutes+500 MB & 30 SMS
মূল্য: 34 BDT
Recharge 34 BDT
মেয়াদ: 3 days
38 Minutes Pack
মূল্য: 23 BDT
কোড: *123*23#
মেয়াদ: 2 days
30 Minutes
মূল্য: 18 BDT
কোড: *121*18#
মেয়াদ: 24 Hours
46 Minutes
মূল্যব 28 BDT
কোড: *121*28#
মেয়াদ: 3 days
92 Minutes
মূল্য: 53 BDT
কোড: *121*53#
মেয়াদ: 7 days
160 Minutes
মূল্য: 93 BDT
কোড: *121*93#
মেয়াদ: 7 days
205 Minutes
মূল্য: 118 BDT
কোড: *121*0118#
মেয়াদ: 10 days
125 Minutes
মূল্য: 74 BDT
কোড: *121*074#
মেয়াদ: 7 days
77 Minutes (any net)
মূল্য: 46 BDT
কোড: *123*46#
মেয়াদ: 7 days
1000 Min+ 5GB
মূল্য: 777 BDT
কোড: *121*7770#
কোড: 30 days
10 Minutes + 10 SMS
মূল্য: 6.09 BDT
কোড: *121*301#
মেয়াদ: 10 hours
865 Minutes + 3GB
মূল্য: 499 BDT
কোড: *123*499#
মেয়াদ: 45 days
1200 Min with 8GB
মূল্য: 999 BDT
কোড:*121*9990#
মেয়াদ: 30 days
240 Minutes + 1GB
মূল্য: 179 BDT
কোড: *121*1790#
মেয়াদ: 30 days
400 Minute +2GB + 50SMS
মূল্য: 299BDT
কোড: *121*2990#
মেয়াদ: 30 days
2000 Minutes +10GB
মূল্য: 1499 BDT
কোড: *121*1499#
মেয়াদ: 30 days
100 Minutes + 800 SMS + 2GB
মূল্য: 574 BDT
কোড: *123*574#
মেয়াদ: 30 days
এয়ারটেল মিনিট অফার কোড
এবার আমরা এয়ারটেল মিনিট অফার কোড সমূহ নিয়ে আলোচনা করবো।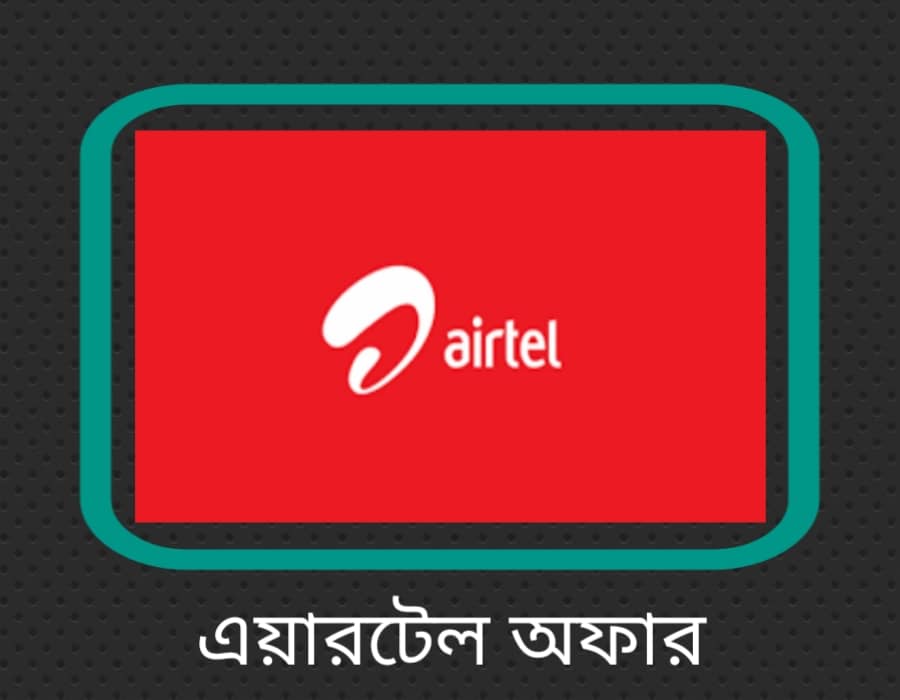 আরো পড়ুন: বাংলালিংক মিনিট প্যাক, এস এম এস প্যাকেজ ও বান্ডেল প্যাকেজ কোড
Airtel 24-Minute Offer:
This is the low price airtel minute offer 2022 14 Taka 24-minute pack validity is 16 hours Check the list below to buy this offer for you
Airtel 24 minute
Dial *121*014#
Validity 16 hour
Airtel 50 Minute Pack:
This is the airtel minute bundle offer. You will receive the offer within minutes and internet and SMS, which expire for 7 days. only 98 Bangladeshi taka Buy this bundle offer
50 Minutes @1.5GB&50 SMS
Just dial *123*098#
Validity 7days
Airtel 38 Minute Pack
If you are searching low a price minute pack, this is the low-price minute pack. only 23 Bangladeshi taka get 38 airtel to any operator minute you recharge 23 takas or dial code
Airtel 38-minute offer code is *123*23#.
validity is 2days
price 23 taka
আরো পড়ুন: রবি মিনিট ও বান্ডেল অফার কোড
46 Minute Offer Airtel
Airtel is a very successful telecom service. Most clients make use of the Airtel Minute offer. They have given a bundle of 46 minutes with just 28 Taka. This 46-minute talk-time pack is excellent and has the lowest rate.
Airtel 46 Minute code is *121*28#
Validity is 03 days
Price 28 Bangladeshi taka
92 Minute Offer Airtel
This airtel Minute pack is unique in Bangladesh Shipped them to users for 92 minutes any net only 53 Bangladeshi Taka. Right here, you can buy this awesome minute pack for a validity of 07 days.
The minute offer code is *121*53#
Price 54 Taka
period of 7 days
205 Minute Offer
This is the airtel 100 taka minute offer people get 205 minutes for just 118 Taka. You can use airtel with any Bangladesh telecom operator.
Active this offer just dial *121*0118#
The price is 118 Taka
Validity is 7 days
Airtel Minute Pack 160 Minute
This airtel regular Minute pack. Which new ones have they updated? Want to buy the offer? Then at a lower cost, you gain more minutes. You'll get 160 minutes of talk time in this Airtel Minute Bundle Pack Active this minute offer, dial *121*93#
Validity is 7days
Price 93 But
Airtel 200 Minute Offer
This is airtel's most popular minute offer, airtel, Which they know to be a weekly minute pack. This offer you get 200 airtel to Bangladeshi operator minute only 115 taka validity is 10 days Active this recharge 115 taka
Or dial *121*115#
This offer validity is 10 days
price 115 taka
VAT, SD & SC included.
Airtel 400 Minute Offer
I'll think about the bundle of perfect Airtel minutes with you. It is one of the most exciting and impressive minute deals Airtel has to deliver. This minute most friends are searching for offers.
I arranged for them to purchase a 400-minute bundle from Airtel quickly. For 400 minutes, you'll get this bundle offer of 50 SMS and 2 GB of free internet. The minute pack will only cost Taka 299 Taka. This is a monthly-minute offer called Airtel. You can use it for 30 days at any time.
This offer code is *121*2990#
Validity is 30 days
Price 299 Bangladeshi Taka
আরো পড়ুন: টেলিটক প্যাকেজ সমূহ ও দেখার নিয়ম
Airtel 1000 Minute Offer
Airtel has updated its customers with its latest one-minute bid. Now you're chatting with your family all day and all night. This deal can be called the Airtel Super Minute Offer, which only lasts 1000 minutes, and for 574 Tk, you can buy 1000 Minutes and 800 SMS and 2 GB Internet Offer. This requires a maximum of 30 days. You can also trigger the deal after recharge.
Active this offer recharge 574 taka
Or dial *121*574#
Price 574 Taka
Validity is 30 days
How To Buy Airtel Minute Offer
Open your mobile dial pad
Then Dial your Activision code
press 1 replay
easily buy an Airtel minute pack
Or Recharge your package taka
Terms Of Airtel Minute Offer 2022
Talk time used to Airtel to Any operator all package
To check minutes dial * 222 *8#
and to check SMS, dial *222*12#.
After completion of pack volume or validity,
you will be charged at the Pay-As-You-Go rate.
VAT, SD & SC are included